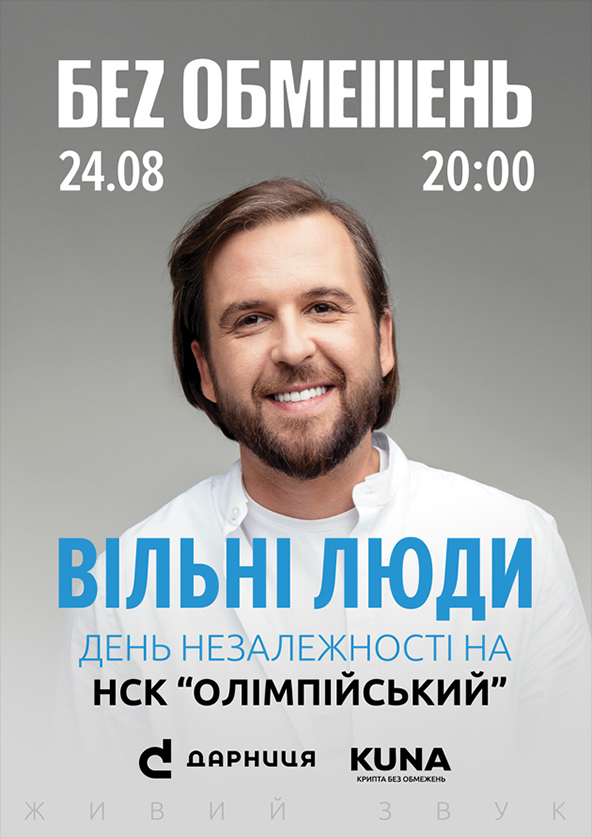 БЕЗ ОБМЕЖЕНЬ. Вільні люди ||
24 august 2023 || NSC Olympic
«ВІЛЬНІ ЛЮДИ» БЕЗ ОБМЕЖЕНЬ.
Друзі, ми переносимо наші стадіонні концерти на 2023 рік.
Шоу на НСК «Олімпійський» у Києві відбудеться 24 серпня 2023 року.
Щодо інших концертів туру «Вільні Люди», що не відбулися внаслідок вторгнення росії в Україну – ми обов'язково заграємо їх для вас після Перемоги!
Усі квитки залишаються дійсними.
Ми сильні, ми Незалежні, і так буде завжди!
Бережіть себе! Переможемо і обов'язково зустрінемось 🇺🇦
Ваші БЕЗ ОБМЕЖЕНЬ.
Performers
Frequently asked questions
📆 When does the BEZ OBMEZHEN perform in Ukraine?
BEZ OBMEZHEN performs 24 august , 20:00 in Kyiv. Tickets can be purchased here
🔥 How much does a ticket cost for a performance BEZ OBMEZHEN in Ukraine?
A concert ticket for an BEZ OBMEZHEN can be purchased at TicketsBox in the price range 550 - 1690 uah
📍 Where will the BEZ OBMEZHEN Concert take place?
БЕЗ ОБМЕЖЕНЬ. Вільні люди
|| 24 august 2023 || NSC Olympic
550 - 1690 uah
Thank you for subscribing