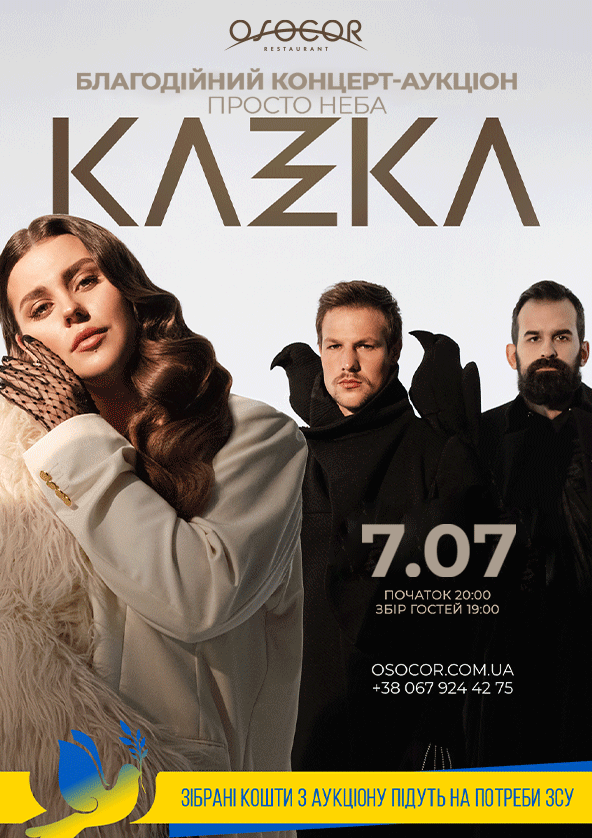 KAZKA. Благодійний Концерт-Аукціон ||
07 july 2022 || Osocor Residence
Already on July 07 a charity concert-auction of the group "KAZKA" will take place in Osocor on the GREEN AREA in the open air.
Improve Live Show and Osocor Residence continue a series of charity performances in support of the Armed Forces of Ukraine.
KAZKA is a musical group playing in the yu-pop style with elements of electro-folk and in the Ukrainian language.
From the first days of the war, the group's clear and understandable position regarding the Russian invasion has added strength to the Ukrainians for struggle and unity at such a necessary and important time.
All proceeds from ticket sales will go to support the Armed Forces of Ukraine.
Performers
Frequently asked questions
📆 When does the KAZKA perform in Ukraine?
KAZKA performs 07 july , 19:00 in Kyiv. Tickets can be purchased here
🔥 How much does a ticket cost for a performance KAZKA in Ukraine?
A concert ticket for an KAZKA can be purchased at TicketsBox in the price range 600 - 1000 uah
📍 Where will the KAZKA Concert take place?
KAZKA. Благодійний Концерт-Аукціон
|| 07 july 2022 || Osocor Residence
600 - 1000 uah
Thank you for subscribing