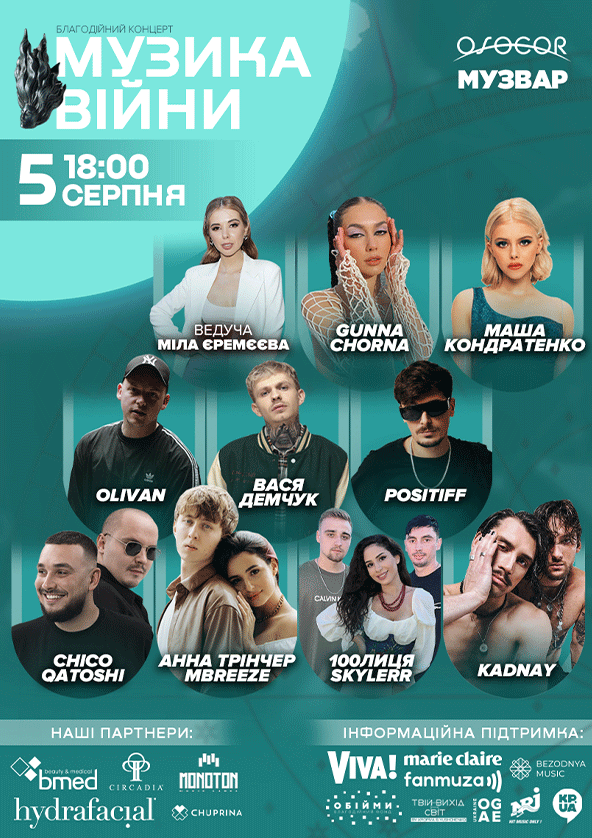 MUZVAR in Osocor Residence ||
Osocor Residence
Ticket sales online is closed!
OSOCOR and MUZVAR invite you!
Charity concert MUSIC OF WAR | 5.08 ⚡️
Music portal "MUZVAR" offers everyone who sees how rapidly Ukrainian show business is changing to jump headlong into the sea of   hits from TikTok and YouTube. "Vanka-Vstanka", "Vechornytsia", "Dopomozhe ZSU", "Swallows", "God, it's over" and other songs of 2022 that will forever remain in the history of the Ukrainian music market. Cultural front in action!
🌟Gunna CHORNA
🌟Vasya Demchuk
🌟Anna Trincher & MBREEZE
🌟OLIVAN
🌟100 faces and Skylerr
🌟Positiff
🌟Masha Kondratenko
🌟Chiko & Qatoshi
🌟KADNAY
We collect funds for:
purchase of a diesel generator for the first separate Northern tank brigade.
purchase of fuel coupons for the work of "Camera catering" volunteers who will deliver hot lunches to the affected settlements of the Kyiv region.
During the concert, a charity auction will be held from top Ukrainian stars, the money raised from the sale of unique lots will also be used to support the victims in the Kyiv region and to purchase a diesel generator for the first separate tank brigade of Siversk.
The decoration of the event will be, as always, an impeccable conference by Mila Yeremeyeva.
We are waiting for everyone and believe that with music and good intentions we will win.
Event partners: HydraFacial, Circadia, BMED, MONOTON, CHUPRINA
Media partners: VIVA!, Marie Claire, Bezodnya music, KP.ua, BF "Obiymy", Your exit to the world, radio NRJ, Fanmuza, OGAE Ukraine.
Performers
MUZVAR in Osocor Residence
|| || Osocor Residence
Ticket sales online is closed!
Thank you for subscribing